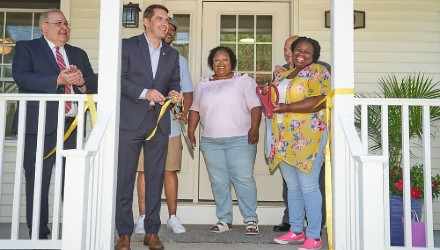 Geddes Federal Savings and Loan Association recently invested $1 Million into HHQ's Enterprise Fund. The fund, created by Home HeadQuarters to address health and safety issues in affordable housing like lead exposure, energy improvements and accessibility.
Home HeadQuarters' Executive Director, Kerry Quaglia said, "We thank Geddes Federal for being such a great community partner and helping to make a real impact in our ability to deliver quality, affordable housing for Central New York families."
Geddes Federal chose to wait to make its most recent investment public until construction of the first homes was completed. Geddes Federal President, Brian DuMond was pleased to participate in a ribbon cutting recently for two new homes on Shuart Avenue in the City of Syracuse. "Watching people see their dream of home ownership become a reality is very exciting. We were happy to play a part in it."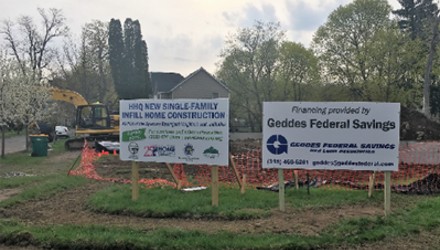 According to DuMond, "Geddes Federal is 100% local and has been since 1949. We see it as our obligation and honor to support our community. In addition to providing our Geddes Start loan program, we have been grateful for the opportunity to partner with Home HeadQuarters to help make home ownership more affordable." DuMond said that Home HeadQuarters' home ownership programs are so successful because they give home buyers the tools and the training they need to be successful home owners.
DuMond concluded, "Geddes Federal is especially proud to have provided over $6 million in funding to Home HeadQuarters over the last 5 years through contributions, investments and loan purchases and we look forward to partnering with them on housing initiatives for years to come."